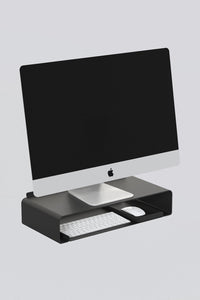 The Work Station is all about improved organisation and added comfort while you work.
The complete Work Station includes a powder-coated aluminium monitor stand with a large and small tray. The Monitor Stand elevates your screen to a more optimal viewing height whilst providing space for the large & small tray that fits nicely underneath. The trays can be used to store your loose papers, stationery, phone, wallet, keys in an organised manner.
Product Dimensions: 510mm x 254mm x 114mm
Elevation Height: 100mm
Designed and made in New Zealand from robust aluminium and finished in a durable powder coat.
Values:
Good Things are Made Local