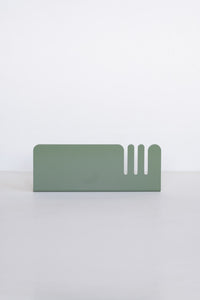 Made in Whanganui, New Zealand.
These shelves fit every manual & electric toothbrush Clean Clean Clean could find! The 8mm slots accommodate two toothbrushes comfortably or three if you don't mind them sitting close. They allow the brushes to hang up to dry, meaning no more slimy bathroom cups or mouldy handles.
Fixed to the wall with two screws, they can be attached to most surfaces easily.
Made from 2mm thick aluminum, these shelves won't rust and are designed to last a lifetime. Powder-coated finish with matching NZ-made screws. Custom white rubber washers are provided as an option to install between the shelf & wall and recommended when installed in a wet environment - like the shower.
Dimensions: 290mm L x 110mm D x 40mm H
_
VALUES
+ Good Things Take a Village