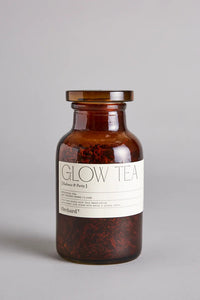 Glow from within with this beautifying antioxidant rich blend with berry and citrus notes.
Ingredients — hibiscus, nettle, lemon peel, rosehip, calendula.
Glow from the inside out with this delicate blend to support lymphatic drainage, reduce fluid retention and gently clear your skin; your largest organ of detoxification.
A combination of calendula and nettle gently purify while rosehip, hibiscus and lemon peel are rich in vitamin c to support collagen production; regenerating skin cells and elasticity to enhance your inner glow.
Antioxidant rich, gently purifying organic botanicals to cleanse and regenerate. To be consumed frequently, as part of your beauty ritual.