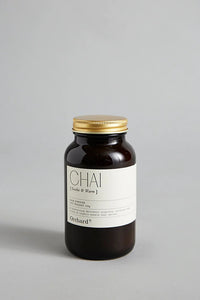 A harmonising Ayurvedic inspired blend of organic masala chai spices, without caffeine.
Ingredients — cinnamon. ginger. star anise. cardamom. nutmeg. fennel. cloves. black pepper.
Caffeine-free Ayurvedic blend of organic spices that is generously rich in Sri Lankan cardamom and ginger. Our chai is designed to awaken the senses while supporting a harmonious return to balance; belly, mind and spirit. 
Stir or blend 1 tsp with water or plant mylk. Enhance with plant medicines and natural sweeteners of choice. A little wild honey added after heating pairs beautifully.