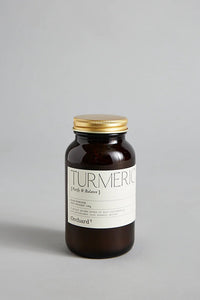 A potent anti-inflammatory and antioxidant-rich blend of fair-trade, organic Ayurvedic spices.
Ingredients — turmeric, cinnamon, cardamom, ginger, black pepper, cayenne.
The bioavailability of turmeric root is enhanced with the addition of black pepper and cayenne. Restorative, detoxifying and soothing this makes for the ultimate cleansing elixir, day or night.

Stir or blend 0.5-1 tsp with water or plant mylk. Enhance with natural sweeteners. Elevate with elixir powders, tonic herbs and mushrooms.