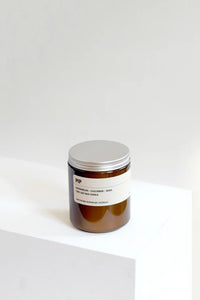 Refreshing Watermelon rounded out with cooling Cucumber, Basil & a hint of Lemon. The scent of Summer.
Scent tone: Fresh / Fruity / Strong
Natural 100% soy wax candle set in an amber glass jar, topped with an aluminium screw top lid.
Posie candles are designed and handmade in Australia, using 100% soy wax and reusable vessels. Keeping production local and using thoughtfully made materials reflects their commitment to operating in a way which is fair, cruelty free and environmentally sound.
Ingredients: 100% natural soy wax, premium grade phthalate free fragrance oils, essential oils, natural fibre waxed cotton wick.
Size: 250g / (8.8oz.)
Burn time: 35-40 hours approx.
Dimensions: 7cm x 9 cm
_
VALUES
+ Good Things Take a Village