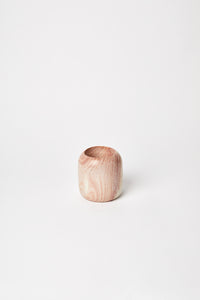 This Asili Soapstone Vessel is skilfully hand-carved using traditional techniques that have been passed down through generations. Each piece is whittled back from large chunks of soapstone from family owned quarries in Western Kenya.
The carvers work with no more than hand tools to create a smooth finish, celebrating the unique diffusion of blush and natural hues throughout the material. This mindful process filters traditional techniques and natural materials through a contemporary lens to create a modern artefact - something timeless yet new, ready to be cherished in your home.
All products produced by Asili are made by artisan groups that are Fair Trade Certified across Uganda and Kenya. Each item is hand made, and directly supports the growth and development of artisans and their trade.
Composition: Soapstone
Origin: Western Kenya (Fair Trade Certified)
Dimensions: 8cm x 9.5cm
Values: Good Things are Ethical