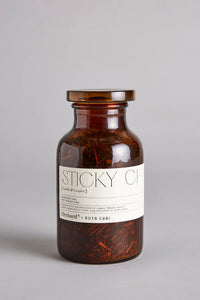 Orchard St. x Ruya Chai ~ Generously spiced blend of organic Masala spices and adaptogenic herbs long marinated in wild honey.
Ingredients — black tea, cinnamon, cardamom, star anise, fennel seed, ginger, ashwagandha, clove, tulsi, ironbark honey. 
A soul warming, Ayurvedic inspired union of organic black tea with traditional Masala spices revered for their carminative properties; easing troubles of the digestive and nervous systems. Long marinated in raw honey from a sustainable and organic farm sitting alongside the beautiful Bellinger River on NSW Mid North Coast.
Step 1. Heap two teaspoons in a small saucepan with 125ml of water. Step 2. Bring to a simmer. Step 3. Add 250ml milk of choice and slowly heat again to simmer. Step 4. Strain. Step 5. Sip in sweet bliss.