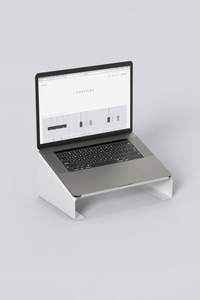 Elevate your laptop to a more ergonomic angle for added comfort while you type away on that keyboard. The Workmate is a desk laptop stand designed to fit 13-inch through to 16-inch laptops. It can also be used as a desk tablet stand to give you a nicer viewing angle to work with.
The Workmate fit the new Apple 16" Macbook Pro M1.
Great for the office desk setup. The Workmate pairs well with its predecessor, The Work Station.
Dimensions: 350mm x 228mm x 150mm
Designed and made in New Zealand from robust aluminium and finished in a durable powder coat.
Values:
Good Things are Made Local