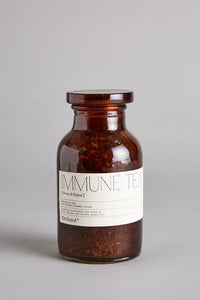 A warming antioxidant rich blend to boost immunity and relieve congestion.
Ingredients — echinacea, ginger, olive leaf, elderberry, thyme.
Support your immunity at all times of the year with this powerful immune-modulating blend.
Echinacea, elderberry, olive leaf and thyme strengthen the immune system, with a particular affinity to the upper respiratory system. Ginger promotes healthy circulation and aids in relieving congestion, while rosehip offers an abundance of vitamin C.
Gently spiced organic botanicals to enhance immunity. To be consumed throughout the day as a protective and supportive tonic.